Radikal Darts Machines available Queensland
This article comes from Gamegateasia.com
---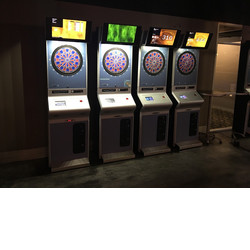 Purchase heavily discounted Radikal Darts machines which are now suplus to our customers needs. Available in Queensland quantity units are available for immediate pickup.

Radikal Darts is a revolution in electronic dart play,offering Panoramic 19" TFT screen, RMT Management Software, 2 strategically built in cameras, Soft tip electronic dart board, Card reader, Precision Laser light projection, Local + Online and Tournament play modes, Vandal free keyboard and user friendly keyboard.

Machines are still on site and operational and offered on wholesale basis.

---
The URL for this article is:
http://www.radikaldarts.com.au/news/2018/01/22/radikal-darts-queensland/

Copyright © 1999 - 2022, Gamegateasia.com All Rights